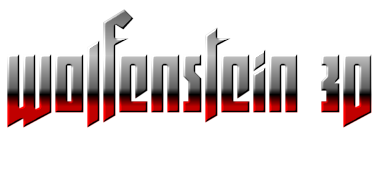 Wolfenstein 3D: source
About this projet
This project is above all a personal achievement and does not aim to become a paid / lucrative project. The subject of the game does not represent the thinking of the authors of the original game, nor of the participants in the current project. id Software, Valve and all other entities are not associated with this project.
Links and news
Mod features
German NPC with 3 skins for soldiers, and 3 mores skins for Hitler NPC (boss);
Weapons and items look like from WW2;
Sounds from original game, remasterised in HD;
Soundtrack from inspired remix/edit of original game's music;
NPC and items health and recharge balanced for more challenge (compared to HL2);
Introducing Shield (combi energy from HL2), replace treasures from original game;
Textures and level design inspired from original's maps of Wolfenstein 3D (PC/Steam version)
Not just a recreation of the levels, it is also a revisit of the design and styles of the rooms, as possible in a castle or a bunker, with objects and variations of textures (all respecting the original game).
Boss (Hitler)
At this time, I not have build level of the Boss battle, but I have tested the concept. If the soldier have health set to 200, Hitler have it to 5000, but is also recharge to full at half of life (not sure if 50 of life, of 50% of the 5000). This values make boss more hard of others NPC, need ~200 pistol ammo, or ~50 shotgun ammo to kill. The boss also the one can use grenade (increase difficulty). and if add "clone" of this NPC, can make a better and hard boss battle.
COPYRIGHT NOTICE
Yes, we use many models, textures and skins from different sources. Sorry, I can't contact each for request the right of use them on this mod, but I have downloaded freely and not take ressources from another mod or map. I add when is possible all links for each items in the readme (and article on Mod DB). If I forgot one or you are the author of one ressource and whant change informations or request a removal from the mod by contact me at levelkro (a) yahoo (dot) ca, I want respect most possible copyright. This mod is not for making money and was distributed freely. I only make mapping and scripts, I not have made any of models or textures. Some models or textures was edited to fix bugs and fit with the mod.